Do you know that we have services for your boat as well as your car, truck, and RV? It is important to keep your boat in top shape too. Similar to RVs, boats have gel coats as we talked about last week. When the gel coat deteriorates, the boat is more susceptible to damage. Check out this boat we detailed in the video below.
This 26-foot boat has been sitting still a while and was covered up. Algae began growing on it and the seat cushions were stained. We cleaned the seats but it looks like the stain is still there. This is because the staining is actually on the foam underneath the plastic.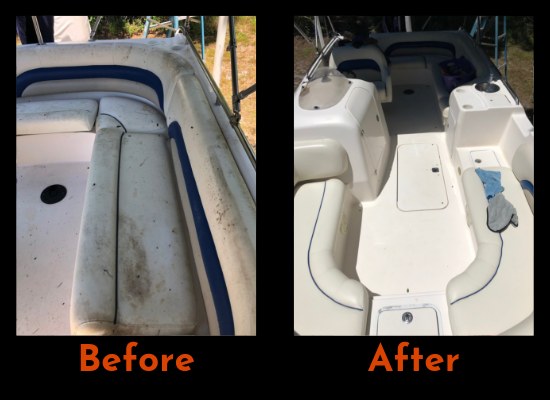 It can be tough taking care of these stains because you can't really scrub them with things like a magic eraser or degreaser. If you try to, you risk dissolving the coating on the vinyl seats. Once that coating is gone, there is no way of getting it back. So be super careful what products you use on your seats. Also, be careful with what products you use on the floor of your boat. If you use something for protection, that is probably okay, but wax can make the surface slippery.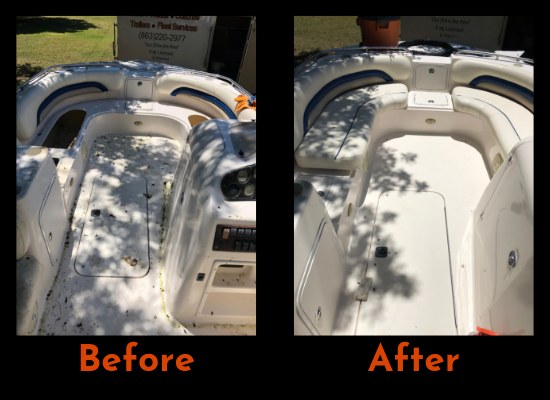 Algae Growth
The algae growth can happen for many different reasons. Some of them are lack of sunlight, moisture, and dirt. Dirt can serve as nutrients to the algae on the boat's surface helping it to spread. Moisture and constant sources of water dripping can invite mold to grow. Keeping your boat in the shade can also contribute to algae growth. You will want to be careful where you keep your boat when it is not in use and try not to let it go too long without a cleaning. That will help prevent damage to the floor and vinyl seats.
Maintaining Your Boat
You will want to keep your boat out of the shade, dry, and clean. Dirt and many other factors over time can cause mold and algae resulting in damage. It can be rather difficult to get back to how it was before, and you have to be careful with what cleaner you use so that you don't cause damage when trying to clean it. Check out our services for the best results!