There are many places in your car that you may be forgetting when you clean. Last week we talked about the importance of sanitizing the common touch places like the steering wheel and shifter knob. On top of that, places that are out of the way like under the spare tire. We will continue on with some other places that may not have come to mind either.
Carpets under the floor mats
There is carpet on the surface of the floor mats that you probably have vacuumed before, but the carpet underneath needs cleaning too. For all the times you get in and out of the car with dirt and mud on your shoes, that likely ends up under the floor mat.
It could be easier to take the mats out completely when you begin vacuuming. You can shake them off and throw them to the side to vacuum after. There are many places that can be hard to get to and you may want to use a flashlight while vacuuming. Once that's done, don't forget the areas under the seat.
Leather and fabric seats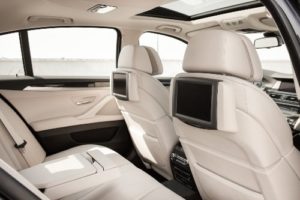 After a good vacuuming, take careful steps to clean and protect your specific kind of seats. If you have leather seats, try a two-step cleaner and conditioner. Starting with the leather seat cleaner, removing all of it off, use a cloth to wipe the conditioner well into the seat for protection of the seat.
Fabric seats can get stains much easier if you don't take care of them right away. Find an automotive upholstery cleaner. The cleaner will gently remove stains from the upholstery while also leaving behind a protective layer for the fabric. After applying, clean up any excess moisture and allow time to dry.
Check out our Standard Interior Car service for all of the basics like vacuuming seats, mats and the floor beneath, wiping down the door jabs, cleaning out the air vents and more! Remember, having a pro take care of details on a normal basis allows you to do cleans in between and keep your car at its best!